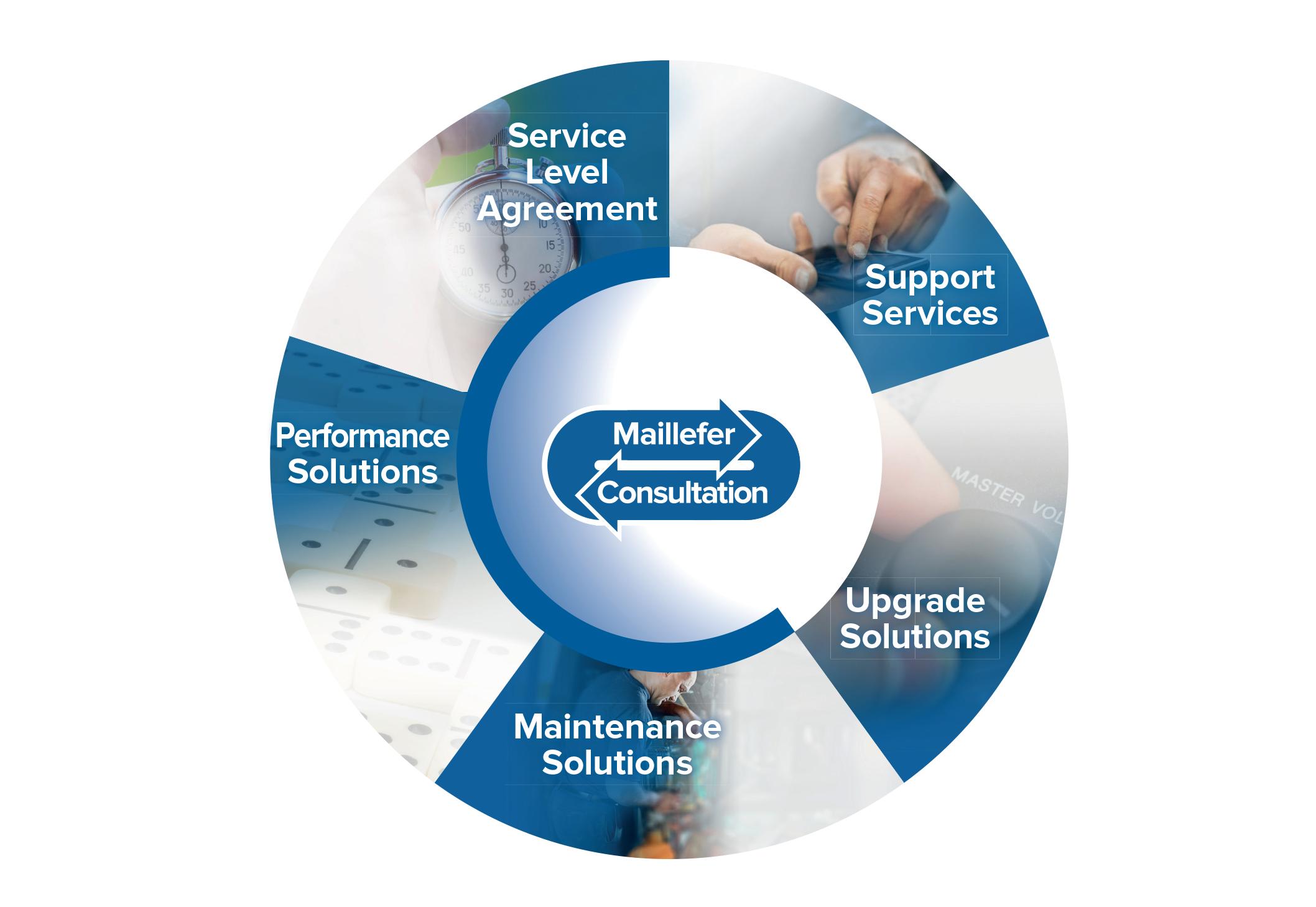 We've positioned ourselves as technology leader in plastic extrusion having the widest systems and services portfolio for the global wire, cable, pipe and tube markets. So naturally, customer expectations equal our ambitions. We aim to maximize your competitiveness by providing proven value technology solutions and dedicated lifecycle support for your equipment. Maillefer Consultation and Maillefer Services are an integral part of our strategy.
Services in a new way
By striving to pioneer the development of new services in the industry, we become a benchmark. Our comprehensive and modern services portfolio enable our customers to keep their production going with minimum interruption, while keeping the quality level of the final product at its best.
Over the years, the traditional response to service requests was the ability to deliver spare parts and make visits to troubleshoot. However, today's customer requirements go beyond efficiently providing parts and maintenance. Service is addressed in a new way.
Full lifecycle support
Our catalogue of solutions is aligned to meet the expectations. A comprehensive set of services is available to you with products ranging from Support Services, from our versatile 24/7 Helpdesk, to Maintenance Solutions, Upgrade Solutions and Performance Solutions.
Give your equipment total lifecycle support. Our full offering delivers value at every step of the process and ensures that your equipment will achieve the expected performance levels. For example, there is Technology Services where the deliverable may not even be a hardware component.
Under the Consultation umbrella
You may be already familiar with examples where we provide consultation through our comprehensive set of Technology Services, where our specialists exchange know-how on degassing, insulation material handling, insulation processing, or outer sheathing. Here the idea is to place the accent on providing production knowledge, know-how and tools more than focusing on shipping parts.
Service products that also fall under Maillefer Consultation umbrella are:
Training that empowers your staff with knowledge and the needed tools to best do their job
Process Survey, where we look at your process capability and your improvement needs in quality & productivity
Line Performance Review, which reveal more about your production line's possibilities in terms OEE improvement and material savings
Line Equipment Assessment, where the focus is on the equipment condition from a maintenance point of view
Technical Inspection that takes a look at the equipment with a focus on its technical condition.
Meeting expectations
Shall our strategy meet expectations? We believe so. The service acquires value as long as the client perceives benefits. Listening, understanding and finding solutions that respond your concerns are the best ways to gain customer loyalty.
Harry Excell
Sales Manager, Maillefer Services
harry.excell@maillefer.net
Marc Siegfried
Service Manager, Maillefer Services
marc.siegfried@maillefer.net