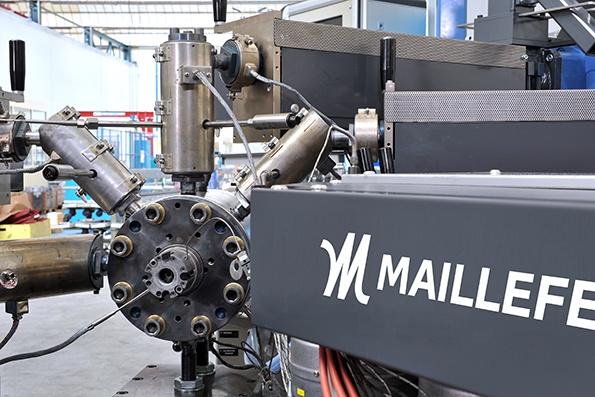 Five-layer automotive extrusion group - Property of Maillefer
Chinaplas 2017, the 31st International Exhibition on Plastics and Rubber Industries, takes place this year in China's major southern city of Guangzhou. Maillefer will present the latest Pipe & Tube manufacturing technologies in product design, materials, applications and processes on the Swiss pavilion 9.2 F71 from May 16 to 19, 2017.
Automotive and Micro-duct does it well
Making up to six-layer automotive fuel and vapor return tube, where each layer serves a specific function, is a complex product to make. But fortunately, our high-performance PAL 032//Extend line does it and does it well. Co-extrusion, quick head set-ups, and over 720 layer combinations are featured at the show.
With demand for FTTx booming in double digits, blown (air jetted) fiber microduct offers a way to prepare infrastructure at an attractive cost-performance ratio. Our PUL 032//Extend lines are complete, single sourced and are able to produce the longest lengths possible.
Micro-drip irrigation, Heating & plumbing and more
More of Maillefer's lines will be presented, like solutions for manufacturing micro-drip irrigation laterals, heating & plumbing pipe, medical IV tube and other special applications.
Our colleagues from Shanghai and Switzerland will travel more or less distance to this major stop along the historic trade route. We warmly welcome you to join them on the Swiss pavilion at Chinaplas, where you too can acquire the extrusion solution that meets your specific needs.
And from Guangzhou...
Chinaplas 2017,第31届国际塑料和橡胶工业展,今年将在中国南方的主要城市广州举行。麦拉菲尔将在2017年5月16日瑞士展团9.2 F71展现有关最新管材制造技术的产品设计、原料、应用和工艺。
制造高达六层的汽车油管和回气管,每一层有特定的功能,是一个复合产品。但幸运的是,我们高性能的PAL032//Extend标准型生产线可以做,并且做的非常好。共挤、快速机头设定、和超过720层的组合是它的特点。
对于以两位数蓬勃兴起的FTTx需求,光纤吹布微管对于基础设施提供了一个非常具有吸引力的性价比产品。来源于麦拉菲尔的PUL032//Extend标准型生产线,让生产长度最长化变成了可能。
麦拉菲尔多数的生产线都会被呈现,像制造微滴灌管滴头解决方案、冷热水管、静脉注射管和其它特殊的应用。
上海和瑞士的同事将会在这历史性的商业航队的主要停靠站或长或短的停留。热诚地欢迎您参与Chinaplas的瑞士展团,您也会获得符合您需要的挤出解决方案。