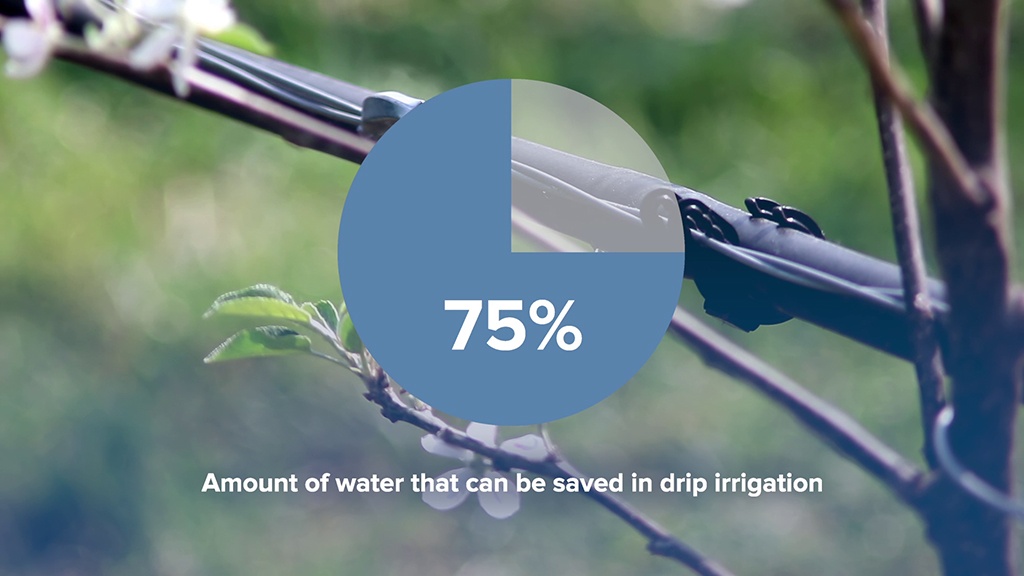 Triple-layer cost advantage
Material usage counts, so by offering the capability for three layer co-extrusion you can decide where to place your different polymer grades according to their price / performance characteristics. Our typical extrusion groups are composed of one main extruder, typically an MXC 80 or 100 mm, and one inner and one outer skin extruder, either 30 or 45 mm in size. The extruders are connected to an ECH 36/55 three layer head with striping capability. The line is designed to cover all popular constructions in the diameter range from DN 12 to 22 mm and up to 1.2 mm in wall thickness.
Winning with stripes
One may want to color code according to flow-rate or emitter spacing to help easily identify the correct product for a particular crop or installation and to assure proper usage (e.g. designed for burying the tube in the ground or not.) This ///Explore line comes standard with a striping extruder for applying a single stripe or multiple stripes to your product.
Rapid product change
The PIL 032-FH///Explore line is preconfigured for rapid color change. This is especially interesting when producing only a few variations of products, like when moving to a different dripper spacing while all other parameters stay the same. Combining the color change set-up with the dual-bowl emitter feeder gives the additional benefit of rapidly switching between similar emitters having different flow-rates.
Anticipation is the key. The striping extruder is equipped with color feeders and is programmable for anticipating color changes. Colors switch-out just at the right moment. By activating a material by-pass and an accelerated purging process you are soon back on track with a new quality product.
The benefits of the rapid color change and dual bowl set-up as presented are:
limited number of line stops
reduced time required for product changes
minimal scrap when changing colors.
Spray cooling and closed loop
Factory space is often limited. It is critical to keep the line length short. Maillefer considers all aspects of cooling product in the shortest time and distance possible. Spray cooling after the calibration trough is preferred over classic flood cooling. Plus, a closed loop process water cooling system dedicated to the line also brings its advantages in terms of process stability and environmental aspects leading to top performance and product quality.
Emitter spacing and detection
Our good process control at the dripper insertion point ensures excellent emitter spacing (see graph). Drilling a hole at exactly the right spot at high line speeds requires a combination of classic and high-tech detection methods. Maillefer employs high performance laser sensors that focus on the exact location of each emitter with its tiny pool. Our finesse in drilling precision translates into a consistent quality that your customers can count on.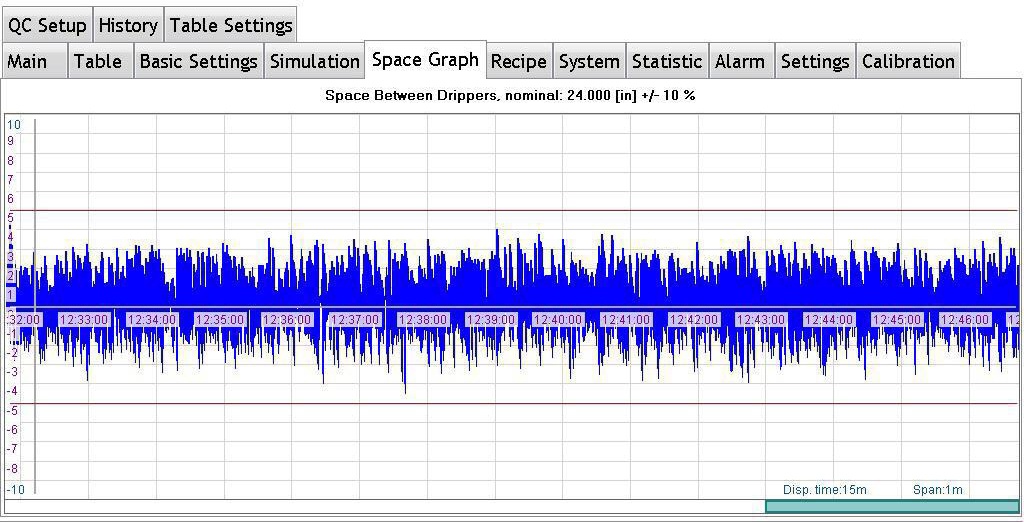 Dripper spacing variation over time well within the +/- 5% tolerance as specified by ISO 9261
A single source
The PIL 032-FH ///Explore is a line which is optimized for high-speed, reliable production of heavy wall laterals with flat emitters. Ease of use, reliability, performance, repeatability, economy of material and productivity are qualities which describe the line. All components are available from a single source and offer a fully integrated solution.
Ernst Geider
Technical Sales Director, Micro-Drip Irrigation Solutions
ernst.geider@maillefer.net