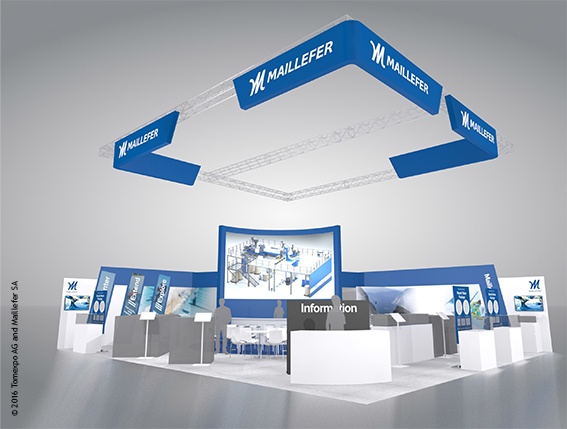 Visit us on stand 16 B51
We've moved to Hall 16. So during this October's eight-day long K show in Düsseldorf, Germany, you'll conveniently find us on stand 16 B51. Our fresh look and new design reflects the exciting changes we've undergone since the last K edition. Indeed, bringing value, technology and competence to our customers are our top goals. For the show's duration, our stand becomes home to innovations for a variety of pipe & tube extrusion applications. We are eager to share our progress with partners and friends at what promises to be a great event.
Three out of many
We've picked three popular applications to exhibit at K. They are micro-drip irrigation, heating & plumbing and blown fiber micro-duct. But that doesn't mean that other applications are left out. Come to us too for your automotive fuel, medical intravenous, offshore oil & gas, special pipe & tube and wire & cable needs.
Where each drop counts
Our micro-drip irrigation lines include an entire series of innovations which target user friendliness, process repeatability, overall performance and productivity. We respond to the full range of requirements with several models of manufacturing systems configured for your emitter type, whether they be flat or round, and for thin or heavy walls. Plus, our /Enter //Extend and ///Explore levels help you ideally position yourself along the price/performance scale. Come check out our solutions for production set-ups that bring savings, like our dripper bowl & sorter equipment being exposed.
Get warm with multi-layers
There are new developments to be found on the PXL and PCL lines for multi-layer heating and plumbing pipe. Keeping it simple offers the advantage of higher productivity and less down time, as demonstrated with our tandem extrusion configuration. We offer complete turnkey processes, including metal forming & welding, all from a single source.
Fiber air-jetted to your doorstep
Fiber service to the home and the ability to extend the network over time are bringing high visibility to blown (air-jetted) fiber infrastructures. As a pioneer of manufacturing solutions for this application, Maillefer offers the entire package from single micro-duct extrusion to large bundle jacketing. Productivity and minimum scrap are achieved thanks to solutions like long-length barrel packing between the two process steps.
Competence that counts
Maillefer Services will be available for bringing you value to your existing equipment starting with the 24/7 Helpdesk up to tailored Service Level Agreements. We are proving that competence counts in each situation.
Our people from Switzerland, Finland, Shanghai, Moscow, India, Egypt and the USA, as well as dozens of agents and partners from around the world are eager to welcome you on stand 16 B51 this fall. We've assembled the experts on micro-drip irrigation, heating & plumbing, blown fiber micro-duct plus more, all in one location.
Contact us for further details about Maillefer at K or to organize your meeting with us during October 19 to 26, 2016.