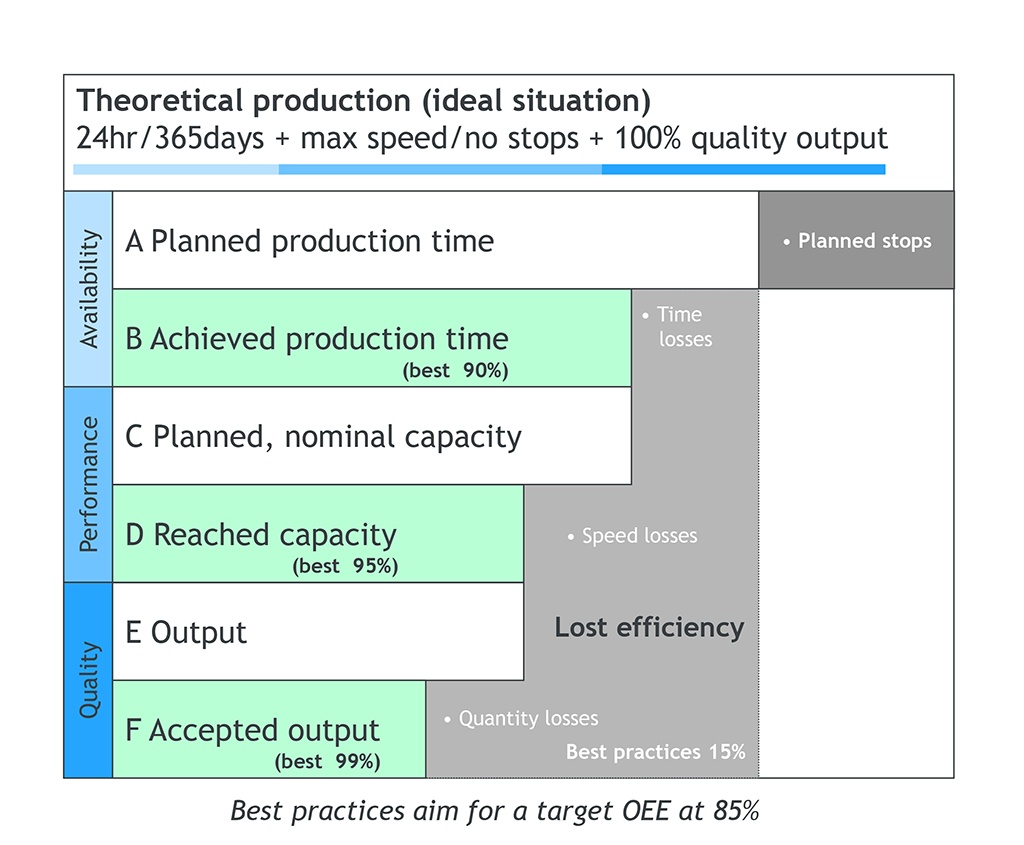 Do you know your production line capability? Or the hidden performances which could easily be utilized from your existing capacity? Overall Equipment Effectiveness (OEE) is one of the most important indicators used to measure and monitor the performance of one's production, from the equipment itself up to the whole factory. By knowing your OEE, we can help you bring your focus on areas requiring improvement.
Calculating OEE
OEE looks at three elements only: Availability, Performance and Quality. Each element is monitored independently. The resulting factor of the three is an OEE value which can then be benchmarked by those familiar with your industry.
One begins monitoring OEE by over a predetermined period without planned stops. A planned stop is any period where production cannot be scheduled (ex. preventive maintenance, holidays, etc.). Whereas planned production time is what is dedicated to manufacture product destined to fulfill the market needs.
The A x P x Q factor
Availability is then calculated by dividing real time in production over planned production time during the monitoring period. As an example, one high-voltage cable customer had an availability during a month period that amounted to 0.80, or 580 hrs / 720 hrs.
Performance is the actual production length divided by the planned production length for the given period above. Continuing with our cable customer above, his performance was 0.85, or 29.4 km / 34.5 km.
Finally, quality is the amount of sellable production divided by the amount planned to be sold during the same monitoring period as above. In our above example, this led to a quality value of 0.94, or 27.6 km / 29.4 km. By multiplying our cable customer's three factors together (A x P x Q), we get an OEE of 64%, which when compared with a target reference of 85% suggested room for improvements.
Practice made perfect
Gaining further insight on your efficiency is possible through Maillefer Services. Through our palette of products, we address the different aspects related to Availability, Performance and Quality for your equipment and help you realize best practices for a higher OEE.
Harry Excell
Sales Manager, Maillefer Services
harry.excell@maillefer.net