In the context of Industry 4.0, Maillefer introduces Smart Monitoring as a novel and intuitive approach into the wire, cable, pipe and tube manufacturing environments.
The Smart Monitoring concept takes shape around the Bluebox, an intelligent data collection and analysis system first released last year. As a product it is now offered in two packages, depending on the focus needed and the primary users. They are Manufacturing Floor Data and Manufacturing Floor Excellence.
C
onnecting from the ground up
Manufacturing Floor Data is an industrial system for advanced data collection and storage of all vital process parameters. It builds on data collected from the ground up and linked through many connection possibilities. Configurations treat thousands tags in real-time with a timeline limited only by disk capacity. Manufacturing Floor Data targets individual processes (e.g. one extrusion line), manufacturing cells, or entire facilities. Integration is open, easy and non-invasive, without requiring a major engineering effort to retrofit various equipment technologies.
Analysis and reporting
Generating data charts and reports both in real-time and historically has never been easier. Use the historian desktop tool to view trends and make reports. Place immediate information and stored production details in the hands of operators, engineers, and operation managers. Plugins are included for Trending, Reporting and direct Query. Special values that are connected and collected from external sensors implemented on your machinery are easily available.
Tailored for quick decisions
Manufacturing Floor Excellence is a software package for advanced analysis and accelerated decision making. The highly visual, informative and custom tailored dashboards bring a wider understanding into the manufacturing process. Its configurations offer easy solutions to management and production personnel, plus it improves the machinery maintenance functions through Preventive Maintenance. Indeed, a PM module integrates the maintenance tasks schedule, descriptions, and engineering documents. Personnel get direct access to the right information to oversee and realize maintenance jobs.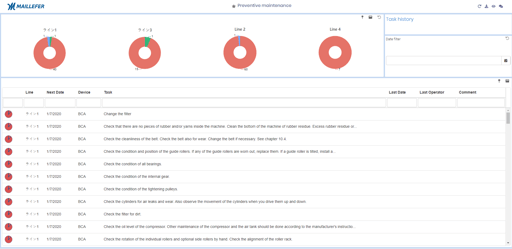 Dashboard listing maintenance schedule for several lines
Dashboard guidance
The function of a dashboard is to provide real-time results by aggregating and extracting value from all the data you collect. It turns volumes of data into dynamic infographics, which confirm efficient operation and reveal areas of needed improvements. Dashboards offer the best analytical tools to make sense of the variety of data generated throughout your entire factory. They provide critical reporting and metrics information. Their lively displays of key indicators serve for constant guidance towards better performance.
Smart Monitoring excellence

Whether the focus lies on intelligent analysis of data collected directly from the manufacturing process or accelerated decision making towards performance excellence, we have the Smart Monitoring package to get you connected into an Industry 4.0 manufacturing environment



Mikko Lahti
Director, R&D
mikko.lahti@maillefer.net