Maillefer has a coiler or reeler model for your specific pipe & tube application. While they compose a familiar item in our typical extrusion line portfolio, they are also quite popular as individual components for upgrades of existing lines. Every model is fully automated, dual position, stand-alone, user-friendly and built with safety in mind.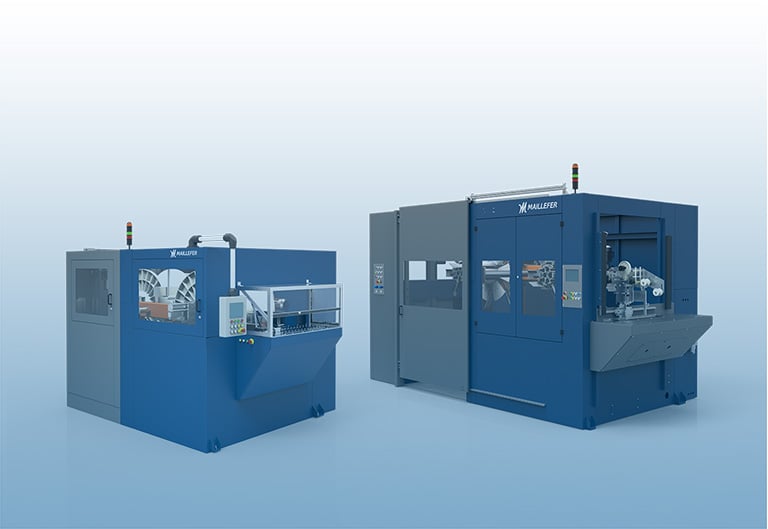 KWA for medical
Performance, precision and cleanliness are designed into the KWA coiler. A large part of the equipment's value is directed at the mechanisms and the precision machined parts of the two stainless steel turrets. The knowhow programmed into the traversing process overcomes the challenges of planetary rotation during transfers and tube acceleration dynamics. The unit keeps pace with lines running at speeds over 300 m/min. It can wind medical tube into coils of 620 mm in diameter, max.
KWD for blown fiber microduct
The KWD responds to the specific requirements of reeling blown fiber microduct as well as certain automotive tubes. Its new multi-axis traversing system guides the tube to form highly regular lays, even on irregular wooden reels. Coupled with a redesigned dancer, the traversing system maintains full control even at line speeds of up to 300 m/min.
KWI for thin wall micro-drip irrigation
The smart traversing process anticipates and compensates for the effect of reversing lay directions. The desired result is to eliminate gaps between the wound tube and the reel flange and to finish off with a perfectly full reel, from edge to edge. The dancer integrates the KWI's tube compacting feature for long lengths and it is synchronized with the reel transfer operation. The KWI reeler reaches up to 400 m/min. and is available in rear or lateral reel unloading versions.
TCA for heating & plumbing, irrigation, automotive and special
This coiler is a true workhorse. It is remarkable by the variety of pipe & tube product types and requirements that it can fulfil. It integrates easily into diverse line layouts and automated post-processing equipment. Robot handling sytems are easily programmed to grasp all coils. They exit the TCA at the same exact spot, every time. Precisely machined cams reliably drive the binding operation, and foregoe pneumatics that are subject to wear and compressed air consumption. Traversing has been developed into a science, thanks to a specific to axis synchronization.
Winding value
Hidden within each coiler or reeler that Maillefer supplies are a series of features, options and smart technologies that build on years of experience acquired in the multiple applications in which the equipment is operated. The KWA, KWD, KWI and TCA models represent the highest value for your winding performance requirements.
Stéphane Badoux
Components Manager Pipe & Tube
stephane.badoux@maillefer.net