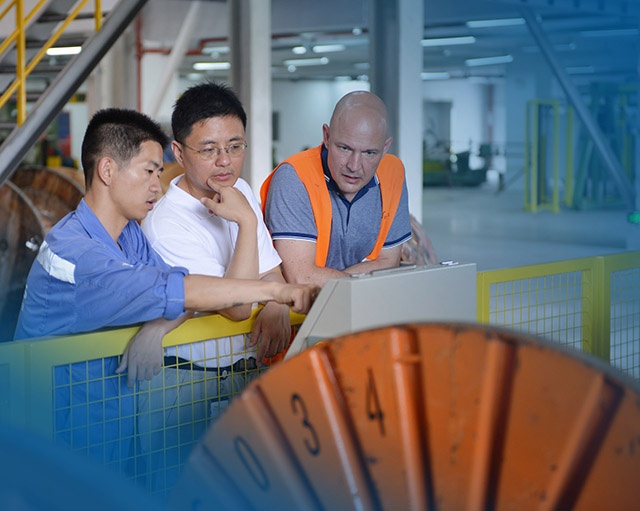 Nexans, a worldwide name in the cable industry, has taken a major step in reinforcing its position in China's growing resources & transport markets with the start of its Suzhou Industrial Footprint (SIF) project. The completion of the SIF project is key, as stated in Nexans' strategic plan, to serve applications in the cable market such as rolling stock, offshore, shipbuilding, mining, handling and others. Most of the equipment is being transferred from the company's Shanghai location since the completion of the building construction during third quarter 2015. The new plant also leaves Nexans with enough space to expand production capacity and to extend local production according to customer demand.
Super steam targeted for transfer
Two Maillefer Rubber Cable Catenary Insulation and Sheathing Lines EPL 20 were targeted for the transfer. The lines were first delivered to Nexans in 2007 at their manufacturing facility in Shanghai, China. They were the main insulation lines in that workshop and producing well for years. Nexans was happy with line performance and the Maillefer Services provided.
Before moving the equipment, they contacted us and asked us to evaluate the lines and provide technical support for the transfer. The move provided an opportunity to extend the product range and improve the line performance in response to today's market demands. Plus, with heavily loaded production schedule, production down-times also needed to be minimized.
Teaming-up for success
Following a series of efficient exchanges with the Nexans team, our proposals were agreed upon. One new extruder and two new crossheads were ordered for the line upgrade and a service agreement for the technical support and line re-commissioning were signed.
From the start, we worked together with the Nexans project team to reach the target. The move for the first line began in mid-March 2016, followed one month later by the second line. The schedule was extremely tight but with both Maillefer and Nexans pulling together, we made it happen. Re-installation and commissioning of the lines went according to schedule and the level of satisfaction was high. Indeed, Nexans Suzhou recently confirmed an upgrade order for a gas injection unit on its extrusion line for data applications.


James Xie
Service Manager, Maillefer Shanghai
james.xie@maillefer.net