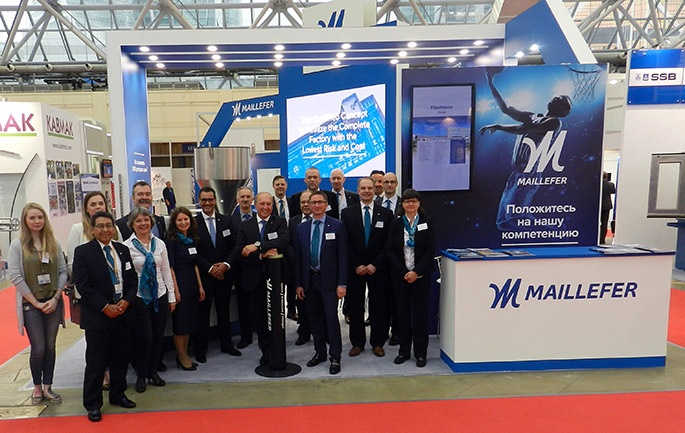 wire Russia is the industry's most important trade fair in the region with over 200 exhibitors from more than 25 countries and over 10,000 visitors mainly from Russia and the CIS countries. It has become a traditional venue for the wire and cable industry experts introducing new technologies, modern equipment and best practices. We were proud to be part of it once again.
Management, technical and commercial specialists from over 30 Russian and former Soviet Union companies visited our booth. This year interest was not so much focused on separate production solutions but spread around all the industry's applications. The main interest focus was in our new innovations - Maillefer Factory System, Maillefer Consultation, Smart Dosing, the Aviation Line TEL 25X and Fiber Optic Cable Secondary Coating Line OEL 40.
During the four day show many interesting discussions were held and views shared both with long-term customers and partners as well as new potential customers. We are also very pleased to say that during the show a contract was signed with Spetskabel for the delivery of a Maillefer Fluoropolymer Line.
A successful technical seminar; "Efficient and innovative methods of medium voltage XLPE cable production and testing" took place during the exhibition. More than 70 specialists from over 20 companies accepted our invitation and were impressed by presentations on the latest Maillefer technology and innovations, VNIIKP developments and testing results, AESA and Sikora measuring equipment and control technologies, and particular interest arose from Uneco's presentation as the end-user of sector conductors and their operational experience. The event concluded in a friendly atmosphere at dinner in a nearby restaurant.
We would like to express our sincere gratitude to all seminar and dinner participants, booth visitors, partners, hosts and organizers and hope that the results will be fruitful not only for us and our customers but to also bring new ideas to all wire & cable players and refreshingly illuminate the whole industry.
Moscow Representative Office
Alexander Chamov, Head of Representative Office
alexander.chamov@maillefer.net
Tel: +7 985 760 0252
Headquarters in Finland
Mr. Veikko Nieminen, Director, Sales & Marketing, Wire & Cable Business Line
veikko.nieminen@maillefer.net
Tel: +358 440 124003