Maillefer has recently acquired a Cable Checker unit for our new R&D lab. The unit is essentially a microscope connected to a hot oil bath for high resolution analysis of all parts of the cable. This equipment is particularly suited for inspection of extruded XLPE (cross-linkable polyethylene) insulated Medium, High and/or Extra-High Voltage cable samples. Both trouble shooting and quality control inspection are done with very high accuracy.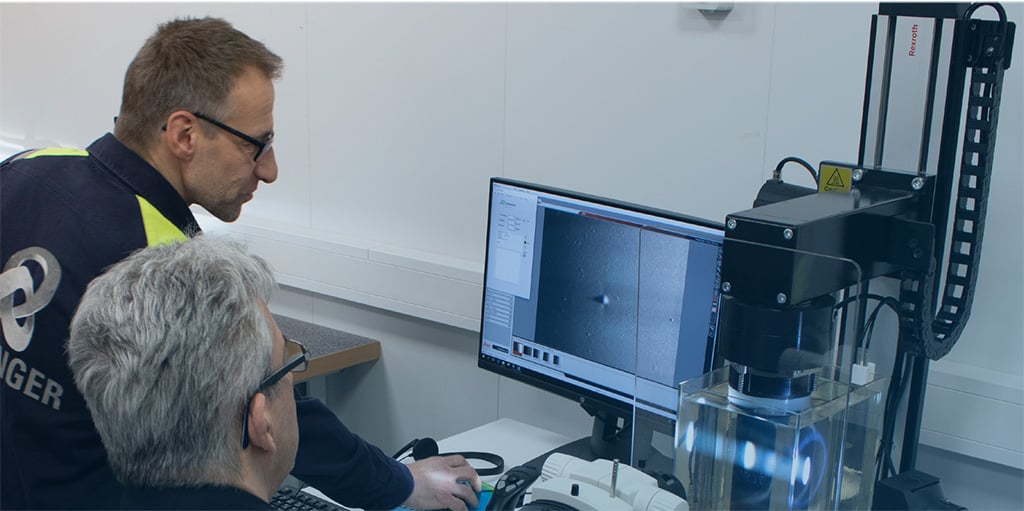 The Cable Checker gives the opportunity to detect faults in the cable sample insulation such as cavities, contaminants, electrical or water trees. The semicon-insulation interfaces can easily be studied for quality with regards to protrusions, pips contaminants, scratches or other defects.
For inspection, the cable sample is loaded into the equipment after degassing and once the semi-conductive insulation shield is removed. The sample is then lowered into the heated oil bath where the crystalline components in the XLPE insulation melt and the sample becomes amorphous and transparent. The powerful light source and microscope combination offer very high resolution imaging. The defects can be measured and marked with reference points for further studies of the sample.
Maillefer utilizes the equipment when supporting MV, HV & EHV cable producers and to further develop the extrusion process.
Utilization examples of the Cable Checker
Quality comparison of semicon smoothness

Root cause investigation in case of cable failure

Insulation cleanliness around electrical trees

Locating cable manufacturing defects at the interfaces.
Timo Mäkelä
Technology, Process Specialist
timo.makela@maillefer.net
Mikko Lahti, Director R&D
mikko.lahti@maillefer.net