The embossing on the chassis plate reads 65 followed by the two-digit number. That is when the story of our 94th delivery from 1965 began. More than 50 years later, the owner retired it and returned it to where it was built.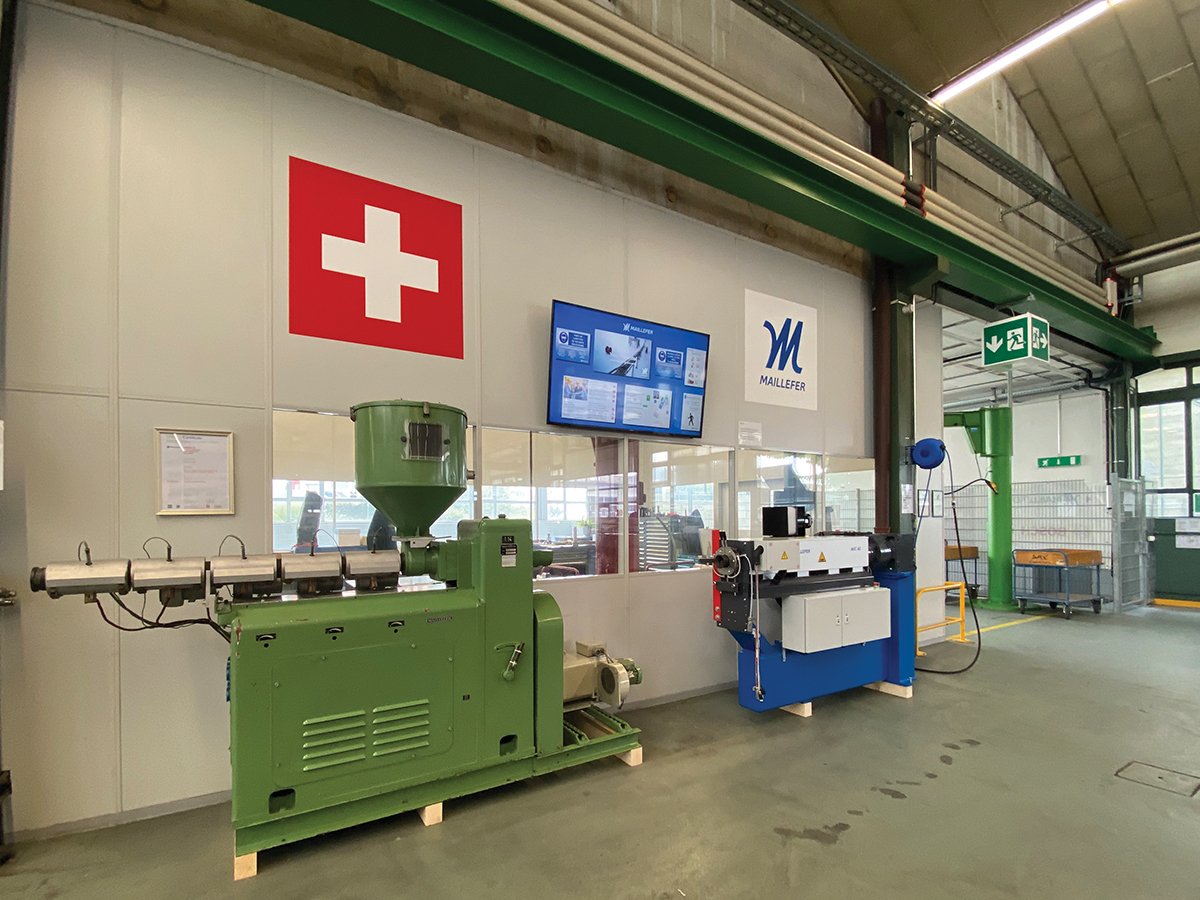 More than 50 years later and after many years of reliable service, this single-screw - 60 mm - 15 L/D - belt-driven - dual-drive extruder named M1 by its owner was returned to its place of origin. It serves as a fine example of sustainability from Maillefer.
Thanks to TI Fluid Systems, Fuldabrueck, Germany (TIFS), where the extruder was last shut down, the venerable machine occupies a place of honor at our R&D Center in Switzerland. It is a testimonial to our company's industrial legacy and its capacity to deliver durable solutions.
A career change towards multi-layer pipe
Originally the 15 L/D machine was sized at 60 x 900 mm and equipped for extruding profiles. Later retrofits saw the screw length increase to 24 L/D (1440 mm) and the motor replaced. The lifetime of the machine was extended, and its processing range expanded to include pipe.
TIFS (earlier named Technoform) first acquired M1 to extrude PE profiles, PS profiles, PE hinge strips for wallpaper and carpet catalogs, and PP profiles. At the end of 1981, the company began its first PA mono-tube production with the extruder while still producing its range of a profiles. However, the amount of PA scrap was considerable. They found that the way to reduce waste was through multi-layer technology.
In 1982 TIFS found a method to use regenerated material in pipes. That was the birth of the company's multilayer pipe development. The extrusion group was quickly upgraded to a 3-layer configuration with a co-extrusion head, a 45 mm auxiliary extruder for the middle layer of regenerated material, and the M1 for the inner and outer layers of virgin material.
Less wasteful pipe approved
An obstacle remained. The first multi-layer pipes produced needed to reach its market. A year-long struggle was undertaken to get the innovative product approved for commercial use by the standards committee for compressed air brake lines. The test results convinced the committee that the multi-layer technology was superior to monolayer, and that a 3-layer pipe could be employed in automotive applications.
A respectful age and retired
TIFS states that the Maillefer extruder was an important component of its development and that it made a significant contribution to its success. The machine's calculated output at the time of retirement totals approximately 10 million meter of profiles and 130 million meters of multilayer pipes. The pipe & profile producer only operated the extruder in second gear. The only repair in all these years was a new drive motor.
TI Fluid Systems graciously returned the machine to Maillefer recently. Extruder № 65-94 can be viewed at the company's Ecublens facility alongside extrusion systems of a whole new generation. Despite the decades that separate them, they share a common ability to age well in an industrial environment.
Ernst Geider
Sales Director, Pipe & Tube Business Line
ernst.geider@maillefer.net