Modern technology allows better process control and data evaluation tools for your production and maintenance needs. Maillefer is launching the latest Process Supervision Unit, PSU6.1 (64bit). The new rebuilt software allows better process control and data evaluation tools for your production and maintenance needs.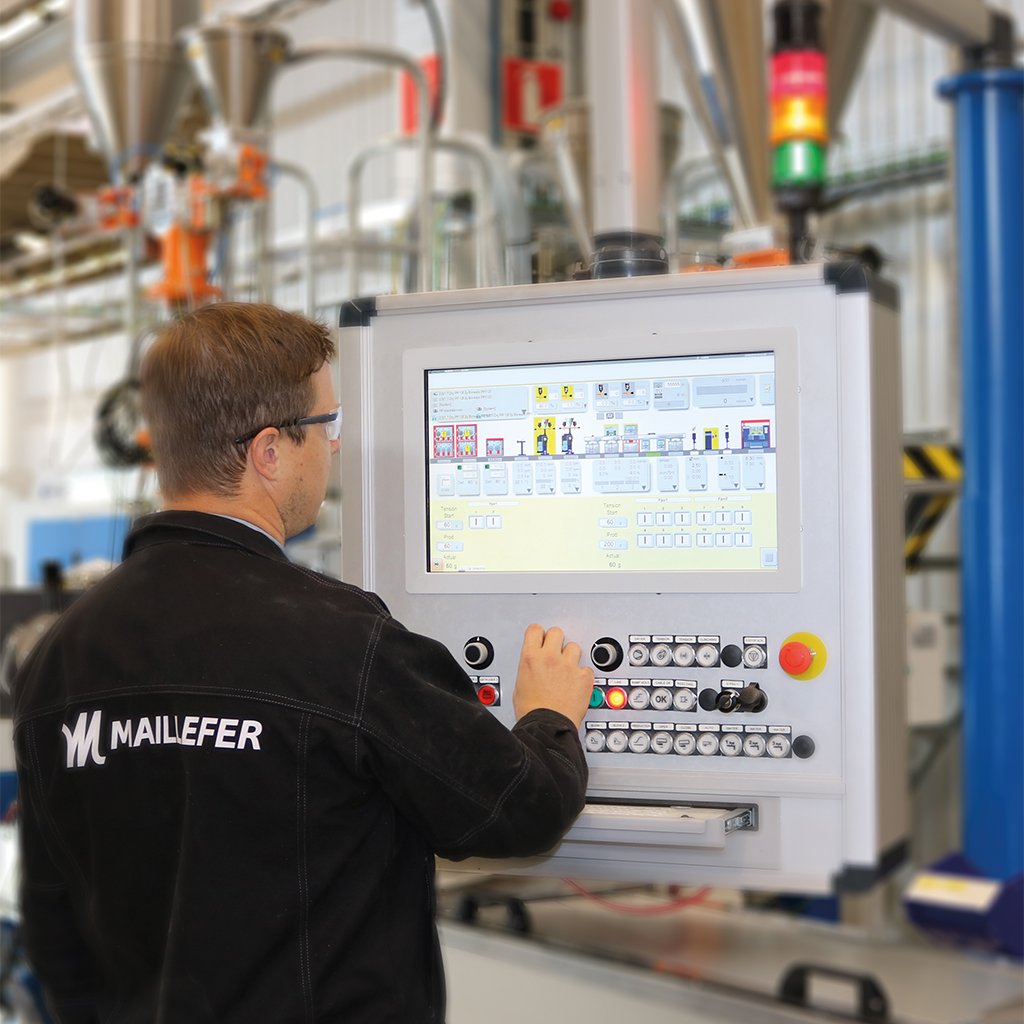 The PSU6.1 has data logging, data analysis and data export possibilities with unlimited storing time for production and process data. Tools, Trend and Query will help to get statistical information easier and offer tailor made query possibilities from the Historian Tool.
The data storage enables production to analyze line quality later on. It is also valuable in solving technical issues as it is possible to go back in time and get the previous parameters easily.
The enhanced Alarm System allows monitoring and recording for further analysis and quality tracking with several new possibilities included. All alarms and events are stored into the SQL database for future utilization. Sorting, online language switching, editing alarm texts and help texts during runtime are new features that can be very useful for line operators. Through the optional application this can also be viewed from any office PC.
Recipe System handling includes structured recipes which assure the use of tested and correct parameter settings during the production. Online language switching, help texts for recipe parameters and possibility to edit help texts during runtime are of great value to the operators.
The Scheduler System enables a simple way to organize and manage the production orders in a queue for production optimization and tracking.
Process visualization allows controlling line functions directly. All the screens have views enabling operators to get an understanding what is happening at a glance, or to follow important process values through real time trends. The reporting system in PSU6.1 is based on SQL Server Reporting services. In addition to standard reports, tailored reports like OEE are available. Printing is possible to various sources like paper, pdf, xml, Excel, html, e-mail. You can also reach all the reports from your office with an optional application.
The new PSU6.1 has been designed for easily upgrading from earlier PSU versions. For older line controls such as S5/PLC5 PLC, a complete line control upgrade is required. Previous PSU version 5.2 is already technically obsolete and basically no new PSU5.2 units can be delivered as spare parts. However Maillefer has few units in stock in order to secure back-up if necessary.
To secure your line performance with latest technology, please contact Maillefer Services for further information.
Now it is time to plan for the next PSU era in your lines!
Technical Specifications Maillefer PSU6.1
Industrial PC / CPU i7, 16GB RAM
2 * 500GB/1TB HD on mobile rack
Windows Server 2012R2
Microsoft SQL Server 2014
SQL 2014 Reporting Services
Wonderware Application Server 2014R2 SP1 PO2
Wonderware InTouch 12014R2 SP1 P02
Wonderware Historian Server 2014R2 SP1 P02
Wonderware Historian Client 2014 R2 SP1 PO2.
Roger Möller
Vice President, Maillefer Services
roger.moller@maillefer.net