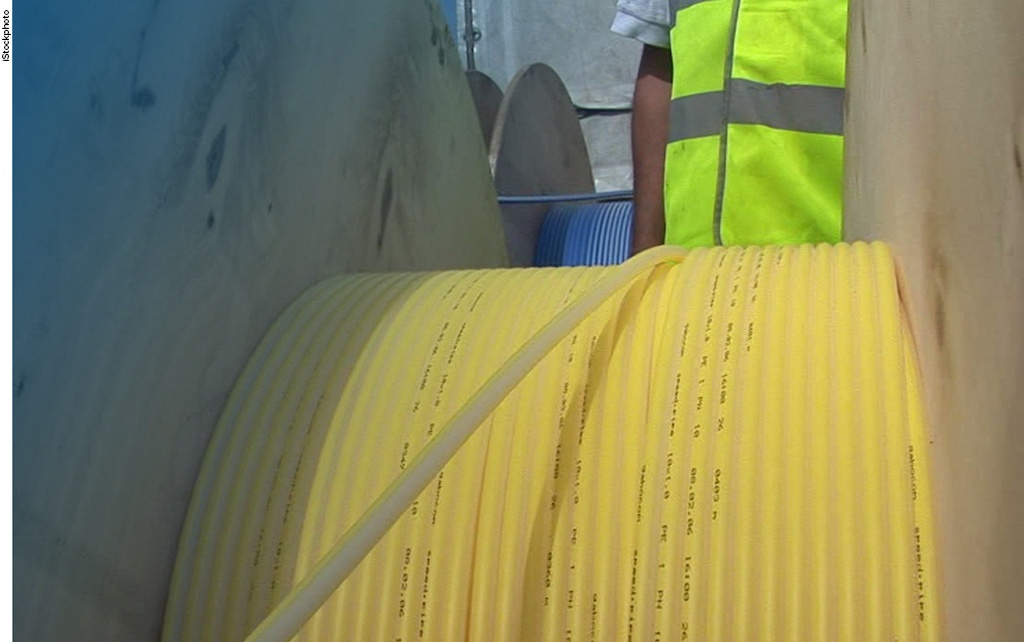 More and more manufacturers around the world have arrived on the scene and are producing micro-duct for blown fiber. Their needs for increased production performance and capacity are motivation to innovate. Recently we have been looking on how to improve micro-duct tube conditioning in view of simplifying the downstream operations of bundle assembly and jacketing.
Smooth the way to assembly
Our KWD 1000 automatic dual reeler is specially designed for handling the small diameter micro-duct tubes of up to 16 mm. The chassis offers a generous alignment tolerance when reels are loaded. Motor sizes are dimensioned to result in smooth movements. The drive and motor are of the latest technology.
We take a hard look at traversing on the reeler. The back and forth motion to smoothly lay tube in laps on a reel is challenging. Signs of inappropriate traversing can be seen when crossovers or kinks latter interrupt easy pay-off during assembly. The KWD's traversing controls allow tube to be spooled nicely and evenly across each lap. As a result, your downstream operations run smoother.
Longer runs and less joints
Are micro-duct lengths on reels too short for you? Do you need to reduce the number of joints? Maillefer has the answer with an automatic barrel packer particularly suited for packing product at high speeds into octagon barrels. With a barrel packer you can extend a micro-duct run by two or three times more before starting into a new barrel. When factored into the number of micro-ducts to be assembled into a bundle, that becomes a considerable reduction in joints.
Reel it in or pack it in
The KWD 1000 reeler and the barrel packer are integrated at the ends of our Micro-duct Pipe Extrusion Lines, PUL 032//Extend. The resulting line produces micro-duct ranging in diameter from 3 to 16 mm in preparation for downstream assembly, where up to 24 micro-ducts are brought together. This is where our Assembly & Sheathing Line, PUL 063//Extend follows. It bundles together individual micro-ducts into a principal duct before extruding a protective jacket. The final product that exits the line can have a total outer diameter of up to 63 mm.
Complete, from one source
Maillefer's micro-duct extrusion lines are complete, fully integrated solutions that are available from one source. Shorter time to produce, longer lengths, handling ease and resulting lower costs are possible with our latest innovations. Our lines offer you the solutions to lead the scene in blown-fiber micro-duct manufacturing.
Philippe Giovangrandi
Technical Sales Director, Pipe & Tube Business
philippe.giovangrandi@maillefer.net