Exhibits 11 and K29 Make It Happen Locally
May 10, 2017 12:00:00 AM
Several regional exhibitions populate our event calendar throughout any given year. Shows in small formats are welcome occasions to bond with local customers. During this month of June, you'll find us at AMI's Medical Tubing in Cologne, Germany and FIP Solution Plastique in Lyon, France. Both are perfect venues for our Pipe & Tube applications and help bring focus to these specific markets.
Read more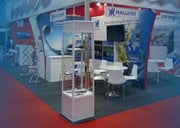 New in Medical IV Tube
May 3, 2017 12:00:00 AM
We're actively developing our solutions for medical since announcing features like pre-cut and short lengths one year ago. Now, we've concentrated on upping line speeds without sacrificing quality. There are improvements to extrusion flow thanks to screw design and extrusion head; plus optimized cooling, from the extrusion head to leaving the water bath. Gains in factory-wide performance and product optimization bring results across all manufacturing steps, especially for assembly located downstream.
Read more