Each and every customer project comes with a complete set of technical documentation for the equipment delivered. The classic series of binders have long been replaced by a more sustainable collection of e-documents.
Turning to MeD for Technical Know-how and Parts Requests
The volumes of documentation are all compiled under a versatile utility named Maillefer e-Documentation. Ease in navigation, searching, and connecting to related information are possible in MeD. And the upcoming version 3.0 promises more flexibility and accessibility destined to users of Maillefer equipment.
Interact with content
As a provider of individual components as well as fully integrated solutions, Maillefer recognizes the importance of having complete, accurate and user-friendly documentation. When we took steps more than a decade ago to reduce the huge volumes of paper generated, we favored the production of customer documentation in the universally used and accepted PDF format. In so doing, we gave users the means to interact with the documentation in an "intelligent" manner. MeD documents are text searchable and contain cross references, bookmarks and other navigational aids for the comfort of users.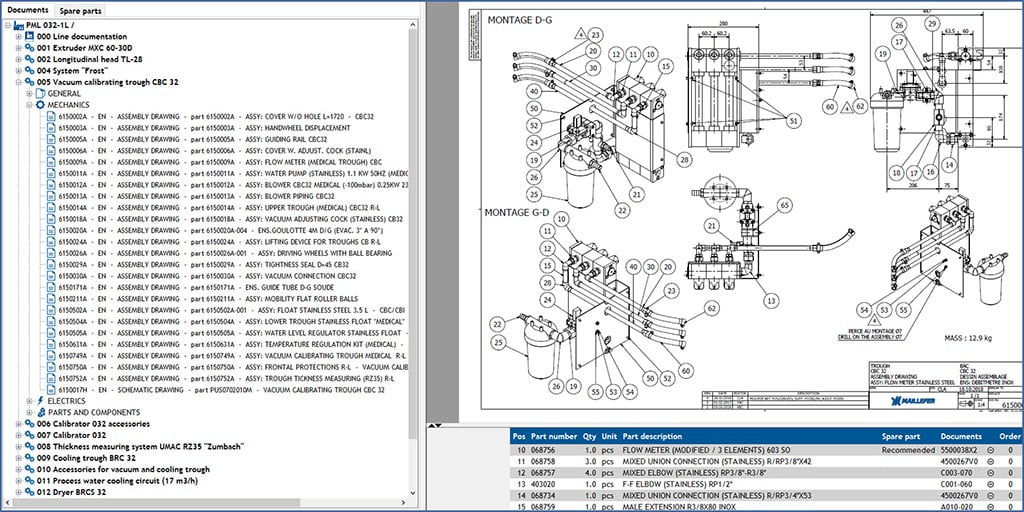 Two modes - one package
MeD serves various user interests, such as installation and maintenance servicing, equipment operation, as well as Maillefer's own engineering and support interventions. Our customers receive an introduction to MeD when participating in our training program in order for them to use the tool to its fullest.
The keys to MeD are delivered with the equipment supplied. The package operates in two modes. A Documentation mode that covers all the technical descriptions and drawings related to the project, and a Spare Parts mode that offers access to individual parts for easy identification. Users can move between modes using the specific information at hand (e.g. a part found in a drawing shown can be directly added to the spare parts request).
An easy reach to needed components
A customer installation is represented hierarchically in MeD. Its tree structure provides a synopsis of supply with branches leading to individual components in the line. Each machine typically has four categories of documents associated with it: general information (instruction manuals); mechanical drawings; electrical schematics; and original documentation for various integrated parts and components coming from OEMs (e.g. motors, gear boxes, drives, etc.)
Requests for the right parts
The Spare Parts mode lets the client see all the spare parts identified by Maillefer for each machine. There is a distinction between recommended parts, safety parts and wear parts.
The search tool is used to display the specified part on the corresponding engineering drawing. A parts table associated with the drawing allows you to collect items into a basket, from where you can directly e-mail Maillefer Services to request a quotation.

When customers opt for MeD to facilitate transmission of a parts request, Maillefer Services treats the request as a priority, meaning that the ordering process is shortened. Furthermore, the request process inherently assures that you order exactly the parts that you need.
An invitation towards efficiency
The utility's growing popularity with customers has encouraged Maillefer to come out with an improved version. MeD 3.0 is a web-enabled, screen responsive and multi-platform application, which is fit for hand-held devices as well as desktop and laptop computers.
Turning to MeD means experiencing the efficiency gains of quickly accessing the technical know-how and specifying the right parts for your Maillefer installation.
Raymond Meyer
Ecublens Documentation
raymond.meyer@maillefer.net
Pekka Kurkinen
Vantaa Documentation
pekka.kurkinen@maillefer.net