The last mile of a broadband network is that final distance of cable that comes into your house and gets you connected. How the cable makes this final stretch is where the differences lie.
The main fiber optic cable for the neighborhood is split into individual drop cables that reach all area end users. There are many ways to make last mile cabling. Fiber optic cables can be directly buried under ground or they can be installed in ducts and conduits. An alternative technology is use of preinstalled microduct, where fibers rather than cables are air-jetted (blown). However here, we will focus on cable, and in particular fiber optic cables blown into ducts.
Down the path of cable duct
As for smaller diameter microduct, cable ducts offer an excellent solution for last mile applications. Because each duct can hold an individual cable, it is simple and easy to redirect cables along different pathways without the need for extra fiber splices. This reduces the product demand, installation time, and signal loss. Unused ducts can be saved for future expansion without the need for additional construction costs.
After the installation of ducts, the cables are installed by pulling or jetting. The later method, however, is preferred as it covers longer distances. This sets certain requirements for cables.
Cables specifically for ducts
Fortunately, cable ducts offer a well-protected environment. Therefore, cables themselves don't need that much mechanical strength members. This makes it easier to produce lighter and more compact cables.
Depending on number of fibers needed, the cables used in duct applications are either central tube or stranded loose tube types. In both cases the construction is simple, as listed here.
Central tube cable with single buffer tube and jacket

A stranded cable composed of: - solid and stiff dielectric central member - buffer tubes stranded around the strength member - typically 1-12 optical fibers in each buffer tube.
The main characteristic of duct cable is a relatively small diameter. This can be achieved by using 200μm fibers, compact micro buffer tubes, and less than 0.5 mm jacket around the final cable. All these make it possible to have 144 optical fibers in a cable that measures about 6 mm in diameter.
The fiber count in duct cables can reach 288 or even 512 fibers.
Manufacturing requirements
The most critical part of manufacturing process is the making of buffer tube. With the right process and material selection, one can make compact tube that offers adequate mechanical strength and optimized shrinkage.
Oftentimes, the buffer tube is made with polybutylene terephthalate (PBT). In normal loose tubes PBT gives excellent mechanical properties thanks to its high crystallinity rate. In duct cables, the wall of the buffer tube is so thin that normal manufacturing process is not enough anymore.
At high production speeds the PBT turns almost completely amorphous and loses its mechanical strength. Today's material manufacturers offer new formulations specially designed for blown cable applications. With these compounds it is possible to make tube with good balance of mechanical strength and shrinkage.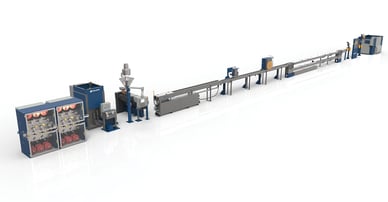 Ultra-performance for making duct cables
With Maillefer's buffer tube line OEL40 it is possible to process these new PBT grades and control excess fiber length (EFL). With the same line you can run classic loose tubes and compact tubes for duct cables at high speed and tight tolerances. Coupled with smart buffering technology, our manufacturing solution offers ultra-performance assisted by AI computing and proven real-world models.

Jari Nykänen
Product Manager, Fiber Optic Cable Solutions
jari.nykanen@maillefer.net