Microduct's Place in the FTTx World
Sep 28, 2022 3:23:39 AM
Microducts are a growing part of the last mile infrastructure. Their bundles, distribution nodes, junction boxes, and connection points compose a no-nonsense network of pathways that are relatively easy to install and maintain.
Read more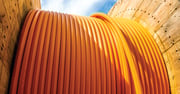 The Final Stretch on the Last Mile
Sep 13, 2022 6:20:35 AM
The last mile of a broadband network is that final distance of cable that comes into your house and gets you connected. How the cable makes this final stretch is where the differences lie.
Read more