Every decade or two, Maillefer reconsiders its portfolio of extruders and undertakes overall redesign. This year, we usher in the first of the MXD series.
An 80 mm and a 45 mm were released from works at this summer. A 30 mm, 60 mm and 100 mm follow. Their compact designs capture the spirit of efficiency and tradition in the extrusion process.
Slick and light-footed
The look is slick and lean. Each MXD has a reduced footprint. The goal is to pull-in extrusion groups of several machines into a tighter circle, overcome cumbersome layouts, shorten melt distances to the extrusion head, optimize melt throughout, and gain in overall extrusion efficiency.
As our engineers revisit each extruder, they build it up around a proven family of Maillefer screws and barrels. Each machine is available in either a standard flow rate version or higher output one.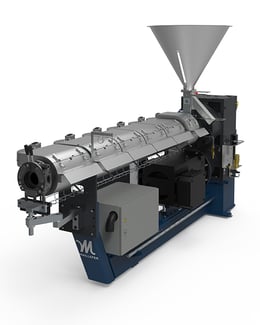 Meeting modern demands
The MXD line does not replace the earlier MXC generation. Both extruder versions continue according to their abilities to respond to a multitude of extrusion applications. The new generation, however, is expected to best meet modern Pipe & Tube production needs. Today's material formulations, heightened processing demands, and cost considerations are pushing for performant extruder technologies.
Indeed, MXD machines arrive in an industry that is quickly evolving. They are equipped with the most up-to-date motors, drives and controls. Each model is available as an element integrated into a complete line, or as a standalone machine with its own dedicated interface. The MXD is Industry 4.0 ready and easily fits into a world of digitalization.
Durable, serviceable and efficient
Durability and serviceability, the hallmarks at Maillefer, are incorporated into the MXD design. Maillefer Services backs up the new extruder family with support, parts and upgrades during extended machine life cycles.
The portfolio features extruder sizes of 30, 45, 60, 80 and 100 mm and lengths in 24, 30 and 36 L/D. Drive and motor sizes are fitted to the producer's application and processing requirements. A variety of dedicated screws and barrels complete the program. Machines like the 30 and 45 are available as both main and auxiliary machines (ex. for stripe, skins, adhesives, etc.). Different hardening and surface treatments are available for corrosive and abrasive compounds.
Energy efficiency is a goal. We place our attention on usage and optimization in relation to the material extruded, its flow rate, and the power required.
Simulation tools and extrusion trials, done regularly in cooperation with material suppliers, are part of our proofing procedures. Plus, we extend the development possibilities to our customers thanks to our on-site R&D facility.
Seen in Düsseldorf
Extrusion know-how remains at the core of Maillefer. We continually invest in our product program and regularly bring about improvements and new designs, like with the MXD extruders arriving to market. First presented at the K 2022 show, the new generation machine is available starting now.
Philippe Moeschler
VP Pipe & Tube Business Line
philippe.moeschler@maillefer.net