The first CV line from Maillefer arrived during the joint venture in the 90's. Since then, the cooperation with Maillefer Services through several upgrades has helped ensure world-class production.

BICC BERCA at world-class levels
The cable manufacturer PT. BICC BERCA was first founded in 1995 as a joint venture in Indonesia. It is now entirely owned by CCM Holding who is specialized in Trading, Construction and Manufacturing within the country. BICC BERCA produces power cables and fiber optical cables. The company continually invests in its equipment and facility located in Balaraja, which occupies more than 32 000 m2.
Securing existing capacity
Maillefer participated in the installation of BICC BERCA's first line in the late 90's. Alongside the catenary CV line, the site now counts a sheathing and a Monosil insulation lines for power cable production. The CV line went through several upgrades in 2019, including new AC cabinets for key components, up-to-date line controls, and improved production possibilities. Maillefer Services cooperated over several weeks with the BICC team on site, to ensure a smooth and fast project realization.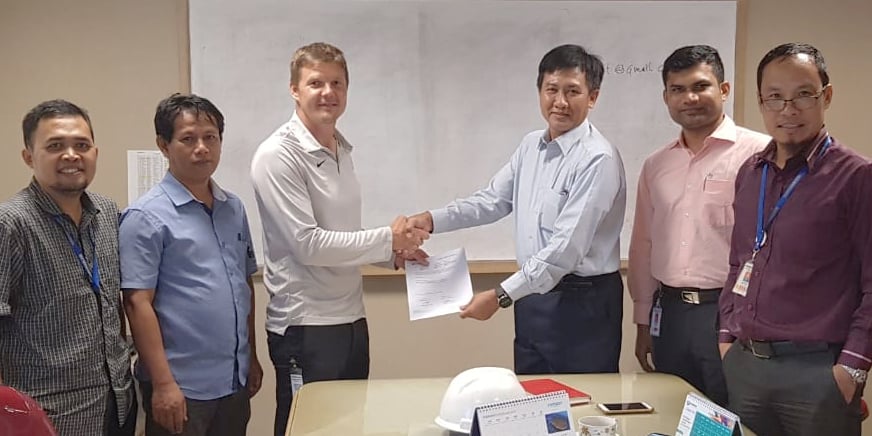 Team picture after successful project finish
Mr. Prabakaran. T, BICC BERCA Senior Production Manager, sees "Our OEE of the CV line is improved thanks to the series of upgrades. The modernization ensures operability, cable quality as well as newfound availability of recommended spare parts for the future."

Progressing towards long runs
As the projects evolved, BICC BERCA recognized its interest for longer continuous production runs. To that end, additional upgrades were required to improve the line operation, especially from the extrusion point of view. Maillefer Services followed-up with a Line Equipment Assessment from which an upgrade package was proposed for the extruders and the tempering units.
Actions such as these demonstrate how production capacity remains sustainable via targeted upgrades. Maillefer is pleased to work with customers like BICC BERCA, where the goals and plans are specified together, the upgrades put in place, and the production adapted to the meet the agreed specifications. Such cooperation lays the groundwork for considering further improvements.
Further expansions in the works
"Our next major plan at the Balaraja site is for a significant increase in capacity by building a new facility to house a new medium and high voltage conductor and cable making line," promises Mr. Praba. "Starting from the planning stages and into factory lay-out support, we require Maillefer to get deeply involved."
BICC BERCA does targeted and periodical investments on their equipment in order to keep the older lines in good condition, and to secure continued cable output and quality. The opportunity for Maillefer to assist BICC BERCA with know-how and regular improvements, enriches the relationship that the two companies share.
Henri Hackman
Sales Manager
henri.hackman@maillefer.net