The push continues to bring power of different sources to populations around the world. John Zachow reveals how cable manufacturers can realize their expansion plans.
The push continues to bring power of different sources to populations around the world. Needs change as do the users. John Zachow, VP Wire & Cable North America, reveals how Maillefer is helping major cable manufacturers on his continent realize their impressive expansion plans.
Engaged to modernize and expand
"The choice of Maillefer, a Davis- Standard company, is tied to its foundation in extrusion technology", begins Mr. Zachow. "Already in pre- Covid times, we saw modernization and growth in the area of power distribution. The trend is being fueled by considerable financing for capital investment earmarked for modernization."
He believes that a strong technological base allows cable producers to excel in the manufacturing of low, medium and high voltage cables in a challenging environment. They seek to accumulate as many new benefits as possible.
Such challenges to overcome include reduction of time/material during startup and end of a production run, reduction during color changes, ability to run closer to minimum specifications through tighter production yields and finally being able to run materials which are "slippery" through the extrusion process with greater reliability, efficiency and rigor.
Helical groove at the core
"The core challenge in selecting new technology is to provide a manufacturing tool to improve existing process(s). Maillefer demonstrates the multiple benefits of choosing helical grooved feed extrusion technology", continues Mr. Zachow.
"Here, there is a clear linear relationship between screw RPM and the kg/hr per RPM throughout the entire working range of the screw (see chart below). We benchmarked it against similar data from a smooth bore feed extruder working in the field. Linearity was about 3 times better using grooved feed. Minimal non-linearity was demonstrated throughout the operating range for the grooved feed extruder at less than 2%. The tests were performed on an 80mm extruder processing PVC, through its crosshead and tooling."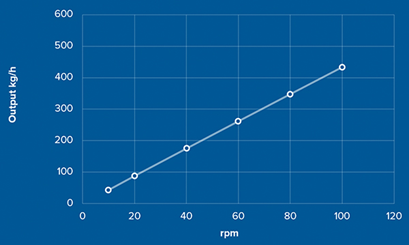 Linear output curve across the RPM range, with groove feed
Smooth ramp-ups and tight tolerances
A linear behavior allows the operator to "dial in" the product at a start-up speeds and then seamlessly ramp up to full speed with the assurance that the OD/Wall remain constant throughout. This is a clear improvement from the method of increasing production speed incrementally while constantly adjusting screw RPM. A linear behavior ensures product quality.
An added benefit of having a more constant OD/Wall is the ability to run closer to the minimum specs for each product. Material savings are realized because there is no need to overcompensate for excessive variations inherent to non-linear behavior.
Extrusion output and melt temperature are virtually unaffected by changes in extrusion pressure. During the 80mm test the extrusion pressure increased by 50% throughout the range of screw RPM. As demonstrated by the linearity, the output was extremely constant. Also during the tests the gum space was adjusted at steady state conditions. The output and temperature were found to be constant.
Less floor space and color purge
Two advantages of grooved feed come to light for customers, and prove to be of great value to them. "Higher output per RPM meant that we can drop down one extruder size and reduce the layout width. For example, on jacketing lines where we typically have a 150mm smooth bore extruder, a 120mm extruder would suffice. We free up floor space and find material savings", argues Mr. Zachow.
First off, significant floor space savings is realized by the ability to draw lines into a tighter perimeter. The shorter extruders give about a ¾ of a meter reduction between lines. That translates to a higher density of machines overall and frees-up space to introduce more manufacturing capacity.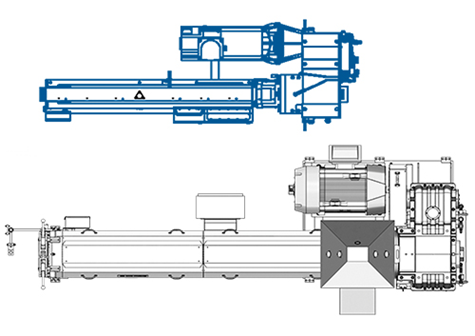 Space saving MXC 120-24D replaces 150 mm smooth bore extruder
A second advantage comes from the reduced amount of processing volume within the smaller extruder. This is quite noticeable during color changes. Less purge increases material savings, shortens color changes and finally, results in more quality product. In comparison to a 150mm, the 120mm is expected to bring over 10 kg of material savings during each color change.
Slip improved
A desired improvement of the extrusion technology is solving variability and unreliability of extruding "slippery" material. Building wires and cables, which are pulled through conduits and wooden walls as seen predominantly in the USA, include an additive to reduce the friction coefficient. The aim is to simplify installation and reduce the amount of pulling force (tension) and the chances of damaging cable.
However, with conventional smooth bore technology, processing materials with the slip additive is challenging. Friction generated by this extrusion method affects the additive's integrity. The material is very challenging to run with consistency and reliability. It continues to be employed with smooth bores only with much process engineering ingenuity.
The grooved feed technology is more tolerant. Force feed conveying instead of friction based shows to be a great improvement, especially when running "slippery" PVC and Nylon. In fact, the friction reduction additives proved to act as processing aids. The ease in processing these material improves.
Groove that fits
"Extrusion technology influences reliability", concludes Mr. Zachow. "A groove design sees output boosted over conventional materials. Several tests where done to verify if feeding could be disrupted by periods of idle time with heat. Here too, the grooved technology demonstrated great improvements over conventional technology. All things considered, we really provide cable manufacturers with value that fits today's constraints."
John Zachow, VP, Wire & Cable Business Line – Americas
jzachow@davis-standard.com